BBQ Masterclass was in the RTE food Feature today . Thank you to Zack Gallagher from Irish food Guide and Irish food tours
http://www.rte.ie/lifestyle/food/features/2013/0531/453777-a-bbq-is-just-a-meal-with-friends-cooked-outdoors/
A BBQ is just A Meal With Friends, Cooked Outdoors
Zack Gallagher, the blogger behind Irish Food Guide, talks everything BBQ and shares some great recipes to try at home.
Summer is here (well it is supposed to be) and all over Ireland people are pulling out and cleaning down their trusty barbecue as the school holidays approach. In this 'The Gathering' Year, there will be even more reasons to use this most popular style of cooking outdoors, as dads all over the country try to impress their returning American or Aussie cousins with their cooking skills on the Barbie!I laugh to myself sometimes when family and friends get together around a barbeque for an afternoon of eating and talking. Inevitably there will be a couple of the lads that would never even peel a spud at home, but show them a BBQ and they will become masters of the art of charring steak. And there's always one, with no patience, who will suggest getting some lighter fluid to get the fire going faster!Cooking over wood like this is the oldest cooking method in the world and the technique involved has changed little over the centuries. Barbequing has taken on a whole new lease of life in Ireland over the last few years. TV shows have been showcasing restaurants that slow cook their meats in large smokers and new restaurants, like Asador in Dublin, have opened up to bring the pleasure of the BBQ to the city dweller.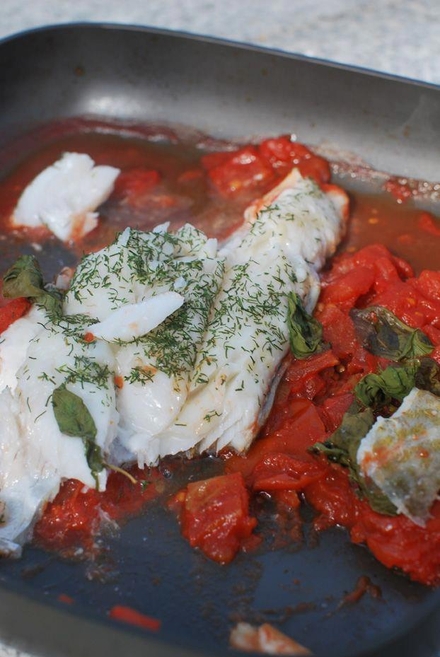 The meaning of word Barbeque has caused many arguments. Some say that comes from the Caribbean word barabicu, which is roughly translated as "sacred fire pit", where an animal such as a goat or a sheep was cooked whole in a pit in the ground. A large pot was placed under the meat to catch the juices to make a broth. Others state that it come from the French term de barbe a queue which means "from chin to tail" as in cooking a whole pig on a spit. In South Africa a barbecue is known as a Braai and there it is used daily, as the preferred cooking method. In Australia it is known, of course, as The Barbie!
To me it simply means "A meal with friends, cooked outdoors."
The weather here in Ireland is not particularly suited to barbecuing but if you can get into the habit of cooking on your Barbie more often, you will become addicted to the finger-licking flavours and fun that cannot be recreated in the home kitchen! You can cook almost anything on a barbecue – not just sausages and burgers!
Steak, pork, chicken, lamb, homemade burgers, venison, fish, vegetables, and everything else too will benefit from the fast searing of the outside of the food and then the gentler cooking as you move the food to the sides of the BBQ to finish out the cooking. I'm not a big fan of flavoured rubs on the meat. I prefer to marinade it gently, season it lightly, cook it juicy and then rub some of my soon-to-be-world-famous Homemade BBQ Sauce on top. This lets the flavour of the meat shine through while still getting that yummy, sticky, lick-your-fingers moment – that is the essence of every great barbeque!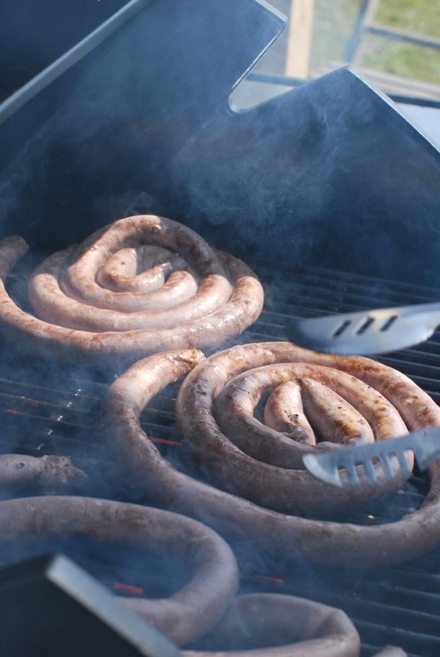 Here are a few tricks and tips that will help you have a successful and tasty day with friends. Like anything else, the most important one is advance preparation:
1. If you're marinating any of your meats place them in a freezer bag with your marinade, shake them well to coat all the meat and keep it in the fridge until you're ready to cook.
2. Keep one side of the BBQ a lower temperature than the other. This way you can sear the meats and then move them to the cooler side to finish cooking without burning them.
3. If you are making kebabs, soak the wooden skewers in water for 30 minutes before you put the meat or vegetables on them. This will stop the skewers from burning. If you're using metal ones rub them with a little oil beforehand to stop the meat from sticking to them when it's cooked.
4. You can buy hinged wire baskets that are very handy for cooking and turning several small pieces of fish, meat and vegetables at the one time.
5. Season your meats with sea salt and freshly ground pepper to help bring out the flavours.
6. If you're using charcoal, wait until the coals have a light white coating before cooking over them. This normally takes about 20 minutes to develop after lighting.
7. Have everything else prepared and close to hand before you start cooking. Your potatoes can be pre-baked and placed around the outside of the BBQ to heat up without burning.
8. Don't coat your meat with any Barbecue sauce until it is almost finished cooking. The reason for this is that the sugars and tomatoes in the BBQ sauce will caramelise and burn on the outside of the meat before it is actually cooked on the inside!
9. Use a Basting Stock to keep it moist and add flavour while your meats are cooking.
10. Be careful! Keep small children away from the BBQ and if you're on the beach using a tinfoil, one-use BBQ Set, use sand to make sure it's out when your finished and dispose of it sensibly.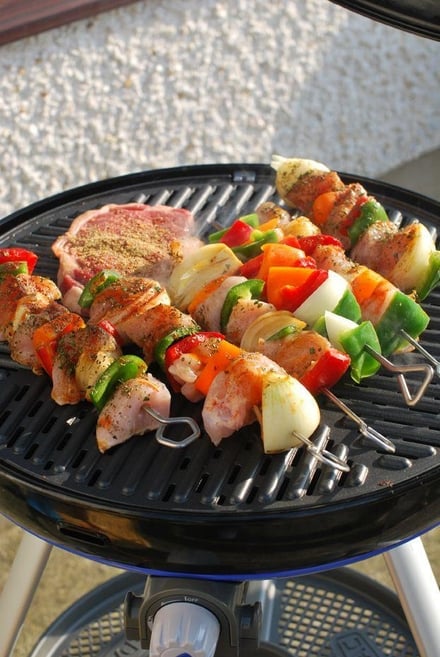 I've been recently involved in starting up a new business called Irish Food Tours, where we bring people around Ireland visiting artisan food producers, farms, the best restaurants and accommodation. On our Irish Food Tours, the guests will get to hear the story behind the food, as told to them by the food producers themselves. They will meet the chefs who are preparing their meals and enjoy some great foodie workshops.
We have BBQ Master Classes included on the schedule in several parts of the country. One of them, Quinzil du Plessis, is a South African who lives in a lovely setting on the shore of Carlingford Lough, Co Louth. He offers BBQ Master Classes to private groups and partys. "South Africans are so passionate about barbecuing" he says, "that they even have a National BBQ day and no matter what tribe or colour we are, we all use the same word for barbeque – Braai." When he first moved to Ireland his neighbours asked him if there was something wrong with his cooker and if he wanted to use theirs because he was barbecuing every day!
Quinzil teaches how to prepare the basting sauces and marinades and BBQ sauces. He shows guests how to prepare and cook all kinds of delicious BBQ foods, how to smoke fish and meats using your BBQ and even how to make breads and desserts, all on the Braai! Check out his website at www.bbqmasterclass.net.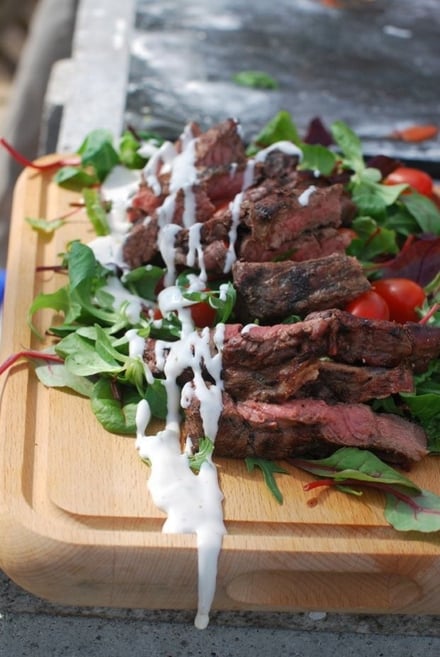 Zack's BBQ Marinade for Beef & Lamb
1 cup red wine
1/2 cup rapeseed oil
1 tbls. dijon mustard
juice of 1/2 lemon
1 tbls. malt vinegar
1 tspn sea salt
1 tspn. Ground black pepper
1 tspn paprika
1 small onion finely chopped
3 cloves garlic finely chopped
Method:
1. Mix all the ingredients together.
2. Place your portioned meat in a freezer bag and pour in the marinade.
3. Mix and shake it well, seal it and leave in the fridge overnight.
Marinade you meat the day before if you can.
A good Basting Stock will help keep your meats from burning and will keep them moist and juicy while cooking. Use a bunch of woody herbs, like rosemary and thyme, tied together to make a brush and dab on the basting stock to flavour and moisten your meats as they cook.
Zack's Basting Stock Recipe
500ml apple juice
100ml olive oil
50ml malt vinegar
Juice of 1 lemon
1 Chicken stock cube
4 cloves garlic, finely chopped
1 tspn thyme
½ tspn paprika
½ tspn black pepper
½ tspn salt
Method:
1.Simply put everything in a pot and bring to the boil.
2.Turn off the heat and let it cool completely before use.
When I BBQ, I like to marinade my meats the day before, season them with a little black pepper, cut them thick and cook them juicy! Beef & Lamb cooked medium-rare. The Chicken & Pork cooked through, but just. The fish cooked lightly in it's own steam with a few herbs, in tinfoil. Vegetables of all sorts can be grilled and then left in a covered metal baking dish, on the side of the BBQ, to finish cooking. Baked potatoes slightly blackened over the grill or baby boiled potatoes that have been tossed in a little garlic, oil and rosemary are just Yum!
Part of the pleasure of a BBQ is that, unlike when you go out (or in) for dinner and get a plated meal served, you can eat lots of different types and tastes. You can pick a little bit of this or that and have more if you want!
Zacky's BBQ Sauce Recipe:
I came up with this BBQ sauce recipe when I was still a wee commis chef. It was developed over a summer and has been going to BBQs all over, ever since. It was an old friend that called it "Zacky's, because it rolls better", he said at the time. There two other ingredients in it (it wouldn't be a secret if everyone knew!) but this is good enough for you to start your own BBQ legacy!
You can use this BBQ sauce straight away or put it in the fridge until needed which will help the flavours develop. It will keep safe in the fridge, in a sealed container, for several weeks. Simply brush the sauce over your meats when it is cooked to your liking and give it another minute on the BBQ to let it caramelise a wee bit and it will add that tasty, shiny, crispy glaze that will have your guests licking their fingers with delight!
50ml olive oil
1 medium onion
5 cloves garlic
1 red chilli (deseeded)
1 red pepper
1 yellow pepper
1 green pepper
2x 400g tins chopped tomatoes
50g brown sugar
4 tbls honey
50ml soy sauce
300ml tomato ketchup
100ml brown sauce
1 tbls Dijon mustard
1 tbls Worchester sauce
juice and zest of 1 lemon
juice and zest of 1 orange
1 tspn Tabasco sauce
½ tspn cracked black pepper
100ml water (more water if necessary to bring it to a dipping consistency when finished)
Method:
1. Chop the vegetables roughly and put them into a large pot with the oil. Sweat them off until soft on a medium heat.
2. Add all the other ingredients and bring it to the boil. Turn down the heat and simmer the sauce for 45 minutes.
3. Transfer the sauce to a food processor and blitz it until all the veg is finely chopped but not smooth. A little bit of bite in the sauce adds to the taste of the food. Add a little more water if necessary to bring it to a "dipping sauce" consistency, not too thick and not too thin.
So that's it from me – Enjoy any sunshine that does come along this summer and always insist on locally sourced Irish Food!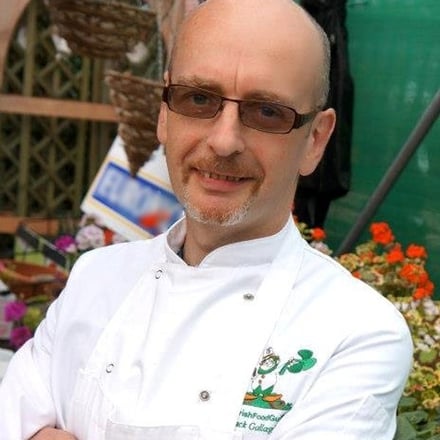 For more on Zack Gallagher see www.IrishFoodGuide.ie or follow him on Twitter @irishfoodguide. For more information about Irish Food Tours (they have a super Kilkenny Food Tour coming up on the 5th July) go to www.IrishFoodTours.ie
All recipes by Zack and all Photos by Quinzil du Plessis.